by Becky Hollada - 4:37 pm EST
Total comments: 6 Source: NeoGAF
Developers elaborate on story, single-player mode and more.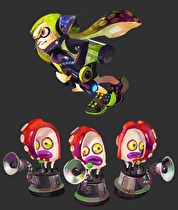 Recently Splatoon developers have taken to Twitter to share some details and new information regarding the new Wii U title releasing next year.
In single player mode, or "Hero Mode", it's the Squids versus the Octopi. A mysterious squid-man has discovered the Octopus Army Corps secret plan to invade the surface world from their underground facility. It's up to your Squid hero to infiltrate their base and take them down.
Read more...