by Justin Baker - 11:07 am EDT
Total comments: 4 Source: (Twitter), https://twitter.com/DeSero/status/3510134474519347...
We're waiting on confirmation by Nintendo of Europe.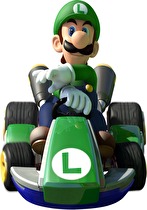 According to a newsletter posted on Twitter, Mario Kart 8 may be releasing in April 2014.
Twitter user DeSero claims that the picture in his post is from a newsletter sent out by Nintendo of Europe. Currently Nintendo has yet to confirm or deny the claim.
Mario Kart 7 released in December 2011 and its predecessor, Mario Kart Wii, released in April 2008.
Read more...