by Justin Baker - 5:59 pm EDT
Total comments: 1 Source: (Operation Rainfall), http://operationrainfall.com/japan-may-31st-ninten...
More finger pointing and monster hunting than you can handle!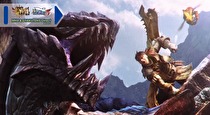 In a Nintendo Direct presentation shown in Japan today, Nintendo released new details about two upcoming Capcom games: Ace Attorney 5 and Monster Hunter 4.
Ace Attorney 5, or Phoenix Wright: Ace Attorney - Dual Destinies as it will be called in English territories, is set to occur one year after... Read more...