by Danny Bivens - 11:42 pm EDT
Total comments: 3 Source: http://www.nintendo.co.jp/3ds/eshop/direct20130401..., Chotto Nintendo Direct 4.1.2013
A free, Super Mario Bros. themed special AR card and application are coming to stores across Japan later this month.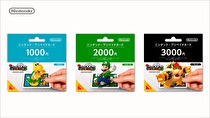 Special Augmented Reality/Nintendo Prepaid card sets featuring characters from the Super Mario series are coming to Japan starting April 23, Satoru Iwata revealed at a Chotto Nintendo Direct today.
The prepaid card doubles as an AR card which can be used with Nintendo 3DS downloadable AR software.... Read more...