by Tom Malina - 1:38 am EST
Total comments: 8 Source: Destructoid, http://www.destructoid.com/capcom-hints-at-new-ace...
Phoenix Wright leads the way in Capcom's plans for 2014.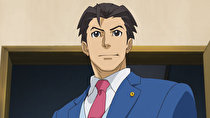 A new instalment in the Ace Attorney franchise is one of several key games currently in development at Capcom, according to a recent group interview with the Japanese giant's senior directors and producers.
Takeshi Yamazaki, who directed Nintendo 3DS title Phoenix Wright: Ace Attorney - Dual Destinies,... Read more...