by Kimberly Keller - 6:19 pm EST
Total comments: 4 Source: Warner Bros. Interactive Entertainment
Finally some Wii U love!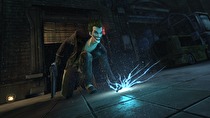 New downloadable content for Batman: Arkham Origins was announced today by Warner Bros. Interactive and will be available for all systems, including the Wii U. The three packs offered are the Infinite Earth Skins Pack, Black Mask Challenge Pack, and Online Supply Drop #1, although the Supply Drop pack will not be available on the Wii U.
Read more...