by Tom Malina - 6:22 pm EDT
Total comments: 10 Source: Aksys Games, (Description), http://www.aksysgames.com/2012/09/27/999-with-new-...
M-rated DS game gets a second run at retail, but now with new box art.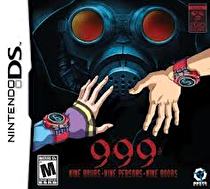 Adventure game 999: Nine Hours, Nine Persons, Nine Doors has received a reprint in North America from publisher Aksys Games.
Initially released for Nintendo DS in 2010 as a limited run, the game was difficult to find at many retailers, with some copies being sold well above the MSRP due to their rarity.
Read more...