by Alex Culafi - 5:13 pm EDT
Total comments: 12
That pin collection won't redeem itself!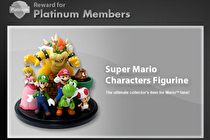 Today, June 30, is the last day to earn Platinum or Gold status on Club Nintendo in North America.
In previous years, getting a set number of coins within the year could net users items like calendars, a Super Mario Bros. statue, or a pin collection. To get gold status (which gets users a smaller... Read more...