by Aaron Kaluszka - 10:02 pm EDT
Total comments: 13 Source: http://www.freepatentsonline.com/y2012/0135803.htm...
The gaming applications will shock you.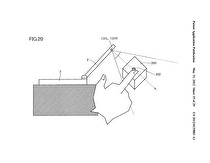 Nintendo's latest patent application includes a number of 3DS game enhancements designed around improving the virtual reality potential of the system. Both the camera and stylus undergo significant enhancement.
The patent application describes ways in which players could interact with the 3DS's... Read more...