by Neal Ronaghan - 9:25 pm EDT
Discuss in talkback! Source: http://www.computerandvideogames.com/345821/sonic-...
You'd think it would only be funny to developers if the game is actually coming to the system.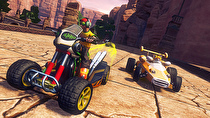 Sonic & All-Stars Racing Transformed, just officially announced today after months of rumors, might have a good chance of coming to Wii U this year, according to a few interviews with Joe Neate, producer at developer Sumo Digital.
"I'm sure there are still discussions ongoing about that at the... Read more...