by Nicholas Bray - 5:30 pm EDT
Total comments: 4
Australians will also have a cool limited edition bonus.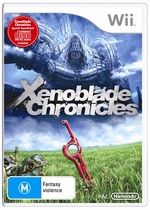 Nintendo Australia announced today that Xenoblade Chronicles will be released for the Wii on September 1, 2011, for both Australia and New Zealand.
The first production run of the game will also include a special soundtrack CD, containing 12 tracks from the game.
The game will be priced at AU $99.95 and NZ $133.22.
Read more...