by Pedro Hernandez - 4:35 pm EST
Total comments: 4 Source: Press Release
Mahjong, astrology, zombies and dolphins rule supreme in this week's selection of games.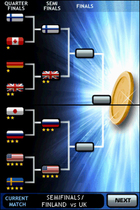 This week's updates brings us another eclectic selection of games for WiiWare and DSiWare, though once again no Virtual Console games were were added to the service.
WiiWare sees two demos in this week's update. The first of these is Zombie Panic in Wonderland, an action/shooting game developed... Read more...