by Donald Theriault - 5:34 pm PDT
Discuss in talkback! Source: Nintendo
Anna's so busy trying to get an alternate version in Heroes she forgot to go crazy with the pricing.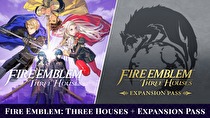 As with previous Switch RPGs, Fire Emblem: Three Houses has recruited an expansion pass.
The US$24.99 pass will reward buyers with an appropriate costume for Byleth (the teacher) beginning on launch day. The eShop has three other items listed in the pass:
Additional items and Auxiliary Battles...
Read more...