by Donald Theriault - 7:30 pm PDT
Discuss in talkback! Source: Gearbox Publishing
A game that involves blasting pig cops.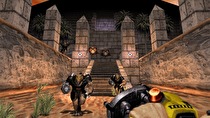 Following his Bulletstorm cameo, the Duke is coming back to Switch next week.
Gearbox Publishing have announced a Switch release for Duke Nukem 3D: 20th Anniversary World Tour on June 23. It will be regularly priced at US$9.99, though it will have a 50% discount until the 30th and can be preloaded now.
Read more...