by Donald Theriault - 6:00 am PDT
Discuss in talkback! Source: Team17
Yeah, that's really a human helping you. Sure.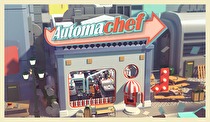 Team17 has announced a publishing agreement for a game that combines cooking and machine learning.
Automachef, developed by Hermes Interactive, will be released under the Team17 banner this summer for Switch. The goal of Automachef is to set up machines to make perfect meals without human intervention, taking into account limited resources, fire, and preventing infestation.
Read more...