by Neal Ronaghan - 10:24 am EST
Discuss in talkback!
Catch up on past Picross S games as well with a sale on the Switch and 3DS.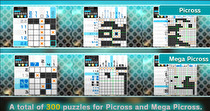 Picross S5 is coming to Nintendo Switch on November 26, according to developer Jupiter.
Priced at $9.99, the latest entry in the series includes more than 300 puzzles, including a handful of Color Picross puzzles and a few large puzzles. The Picross S series has been a mainstay on Switch, with... Read more...