by Donald Theriault - 10:34 am EST
Discuss in talkback! Source: Aksys
After the six pack of 2020, 2021 winds it back - slightly.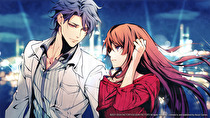 The Otome Armada will continue to bombard the Switch next year.
Aksys have confirmed their plans to localize three additional visual novels from Idea Factory's Otomate label in 2021, in addition to the release of Code: Realize -Wintertide Miracles- in February. The new games:
Olympia Soirée -...
Read more...