by Perry Burkum - 2:29 pm PST
Total comments: 2 Source: Nintendo Direct March 8
Waluigi's hair is still weird.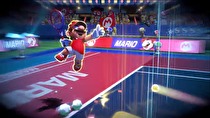 Nintendo announced more information about Mario Tennis Aces during today's Nintendo Direct. More than 15 playable characters with distinct characteristics.
Promising refined Tennis gameplay, Nintendo showed that Aces has a deeper focus on gameplay this time around. The all new "Zone Shot" lets... Read more...