by Donald Theriault - 8:00 am EDT
Discuss in talkback! Source: Nintendo
Featuring a single finger curling on a monkey's paw over in Japan.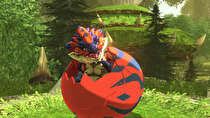 The big game of the week, which is already downloaded and waiting for me to put multiple hours into on a weekend as part of #JRPGJuly, is Monster Hunter Stories 2: Wings of Ruin. I, for one, welcome our apparently flight-capable Rathalos overlords (based on the game icon) and look forward to it burninating... Read more...