by Neal Ronaghan - 6:46 am PST
Discuss in talkback!
The former Nindie Showcase game will bring its Hotline Miami-esque style to close the month.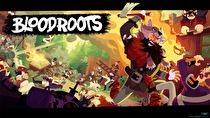 Bloodroots is coming to Switch on February 28 according to developer Paper Cult.
First announced for Nintendo's platform just under a year ago, Bloodroots stars Mr. Wolf who seeks vengeance against the villains who left him for dead. The hook is that everything (and we mean everything) can be Mr. Wolf's weapon, be it sword, barrel, or carrot. The flow of levels is evocative of Hotline Miami, especially with the quick die-retry mechanic.
Read more...