by Donald Theriault - 6:00 am PST
Total comments: 1 Source: Nintendo
We're giving a few days notice before we go into a turkey coma.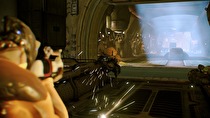 Just because it's a holiday week in the US doesn't mean games aren't releasing by the dozen. The big gun for this week is Warframe, the groin-grabbingly popular free to play shooter ported to Switch by Panic Button so the port should be quality; we'll find out this week. If you'd like to play something... Read more...