by Donald Theriault - 5:22 am PST
Total comments: 25 Source: Nintendo
Nintendo now has the top two slots.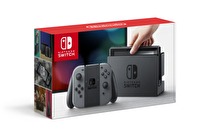 The Switch's first ten months have put Nintendo into a Wii position.
Nintendo confirmed today that 4.8 million Switches have been sold in the United States in the first ten months, a 20% increase over the Wii that previously held the record. The numbers are based on Nintendo internal tracking.
Read more...