by Donald Theriault - 9:11 am PDT
Discuss in talkback! Source: Switch eShop
Also breaking: the age of preannouncing release dates.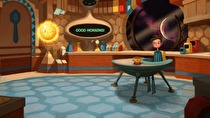 The first major Kickstarter success story in video games is now on Switch.
Double Fine's crowdfunded adventure title Broken Age received a surprise release on the Switch today in both North America and Europe. The game retails for $14.99/€12.79/£11.49.
Read more...