The new strategy RPG from Intelligent Systems is coming a little earlier than expected.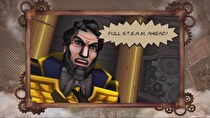 Code Name S.T.E.A.M. is coming to 3DS on March 13, 2015, according to a new video revealed at The Game Awards.
In addition to a steampunk-infused single-player campaign, the strategy RPG from Fire Emblem and Advance Wars developer Intelligent Systems features local and online competitive multiplayer. In the multiplayer, each of the two players bring in their own team of four characters and alternate turns. The video showed it being played on two systems. No word on hot-seat multiplayer or more than two-player battles.
The video also showed Abraham Lincoln being totally boss. Check out our E3 preview for more information.