The "claymation" adventure title passes its Wii U stretch goal.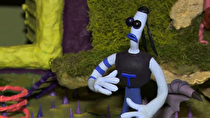 Armikrog, the stop-motion point-and-click adventure game from Earthworm Jim creator Douglas TenNapel, will be released on the Wii U eShop, following the climax of its month-long Kickstarter campaign.
The crowd-funding campaign raised $974,578 in donations, passing the $950,000 Wii U stretch goal set by the game's California-based developer Pencil Test Studios.
Created with a "claymation" graphical design reminiscent of TenNapel's previous game, The Neverhood, Armikrog follows the story of alien explorer Tommynaut and his blind dog sidekick BeakBeak as they become trapped in a fortress on a mysterious planet.
Pencil Test has outlined plans for several Wii U GamePad-specific features, such as drawing on the touch screen to solve puzzles, as well as holding up the controller to scan the environment on the TV screen for hidden clues and characters.