Madden on Wii U is like Madden on 360/PS3, but with GamePad support.
I don't think it's much of a secret that I adored Madden on Wii. It was a great fusion of arcade and simulation. It's with a little bit of a heavy heart that I played the Wii U version of Madden 13, which seems almost indistinguishable from the Xbox 360 version of the game that I have been playing lately.
Though, the biggest difference is what I'm using to control the whole game. Using the GamePad, Madden feels like, well, Madden. I can't even tell you what buttons did what, because it was instinctual, meaning that the button layout is basically what the button layout is on the Xbox 360. The GamePad's touch screen does add some cool features, though. You're able to select your plays from the screen by tapping them. It's super intuitive, and while it might take slightly more time than using a traditional controller, it is a lot more interactive and fun.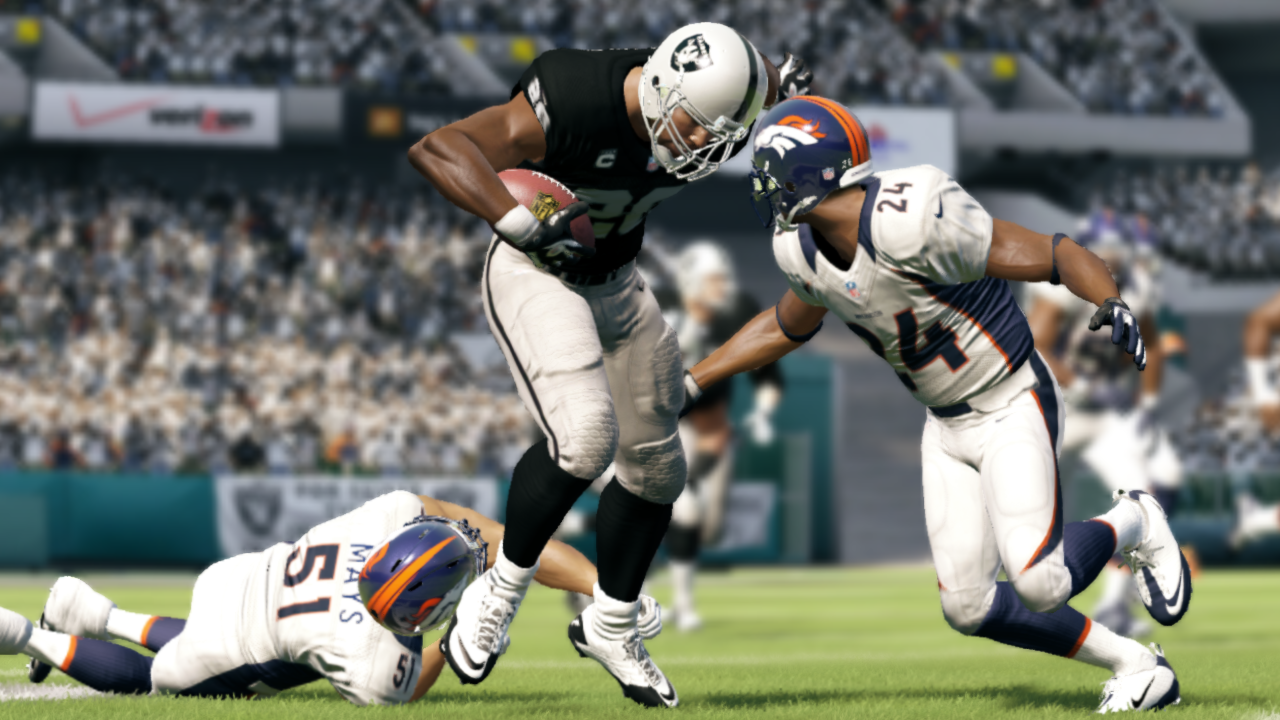 Additionally, you can use the GamePad to do pre-play adjustments, which is as easy as tapping a player on the screen and dragging their icon in a direction to either map out a passing route or make a defender blitz/drop into coverage. This pre-play screen shows the game from a top-down Xs and Os-style view, where all the players on your team are represented by their numbers and position on the field. Using that method for pre-play adjustments is kind of awesome, though once again, it might take slightly longer for series veterans. It is, however, really nice for people who are overwhelmed by Madden's pre-play tweaks.
In rare moments in the game, such as kickoffs, you can play the game on the GamePad, as the same action is displayed on each screen. According to the developer present at the station at the Wii U Preview Event, they are hoping to get Off-TV GamePad play in the final game, but it might not make it in.
There are a few things missing in this game from the other versions. It lacks the new Infinity Engine, which is the new physics engine that makes tackles more realistic. However, it doesn't affect the game at all, and while it would have been great to have that in there, the game is no worse for wear without it. There are a few other features missing, such as Online Communities, that, as a somewhat regular Madden player, I had no idea existed.
So, Madden 13 on Wii U is looking to be a solid entry in the series, bringing that HD NFL experience to Nintendo consoles for the first time. If you're looking for a Madden game, then it should do the trick, but if you are already playing on Xbox 360 or PlayStation 3, it's probably going to be worth double-dipping.
As of now, Madden 13 is officially a launch window title on Wii U. The representatives at the event said that they are still working on the game, and that they are shooting for launch day on November 18, but might wind up coming out a little later. This game should be out by the end of 2012.