Kingdom Hearts is very welcome back to Nintendo systems.
I've been a huge fan of the Kingdom Hearts series ever since I got my hands on the original title back in 2002. My anticipation for Kingdom Hearts 3D has been building, ever since the games announcement at E3 2010. Now that I finally had the opportunity to play it, I can gladly say, the game does not disappoint.
I selected to play as Sora, the series main protagonist, and was thrown into the world of the Three Musketeers. A tutorial explained how to use the companion Dream Eaters. My party had two Dream Eaters, one had the ability to stomp around the map, the other attacked using a basic timing element. I imagine with more Dream Eaters, the abilities will vary and you can craft the exact type of experience you want. I personally think these combo attacks are a great addition to Kingdom Hearts, due to breaking up the hack-and-slash style gameplay.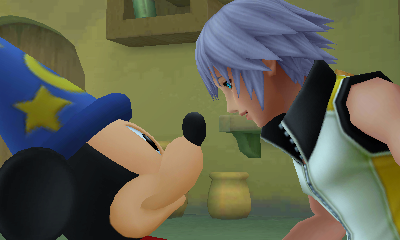 The other thing about the gameplay, is it is no longer entirely hack-and-slash. Sure, there is plenty of running and mashing the attack button. However, with a new addition called Flowmotion you can move more freely in the air. You can bounce off walls, and increase your attack power. I had a ton of fun bouncing around a room, only to then crash down onto an enemy and annihilate it.
The demo had some boss fights, one in which I protected a carriage from a dinosaur looking Dream Eater. The fight made a point of showing off Sora's ability to counter attacks and in turn deal damage to the enemy. Another boss style fight included many strong enemies scattered around a room. I had to make use of Flowmotion to strengthen my attack and then land powerful attacks.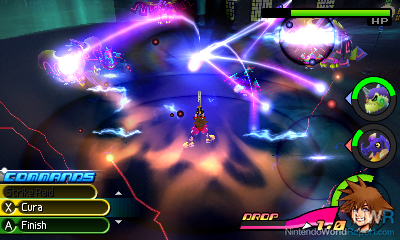 The last part of the game I experienced was another new battle element, reality shifts. I was able to try out Wonder Comic. The enemy entered a comic book style artwork on which I had to trace lines to attack the enemy. There is a different reality shift for each world in the game, and hopefully they are not too similar. I think its a nice addition that once again improves upon the old battle system.
Kingdom Hearts 3D has proven to me that the Kingdom Hearts series is not dead. It has been 6 years since the last numbered KH game. Kingdom Hearts 3D is the first non numbered entry in the series that I would consider good enough to be a main series entry. I loved all the other portable KH games, but Kingdom Hearts 3D: Dream Drop Distance is something that has really grabbed my attention.