Part theatre, part rhythm. It's in the title.
Theatrhythm (pronounced "theatre rhythm") is part rhythm game and part showpiece/collector's item for the Final Fantasy 25th anniversary. The game includes a collection of Final Fantasy songs from FFI onward, and you can play through the selections with three rhythm game modes.
Each mode is fairly simple and just has you following the cues on the top screen while drawing on the lower screen. The position only matters in the first Field mode, where your character progresses across the screen whilst you tap and drag the stylus following the position shown on the top screen. It's straightforward, though there are varying difficulty levels and a chance to increase your score if you hit all the golden combo icons at the end of the song.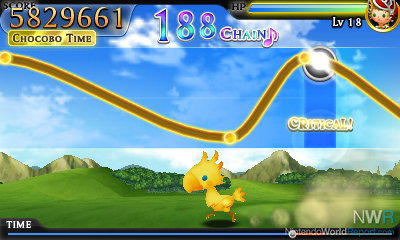 The Event Music stage is where it gets a bit weird. A memorable cut scene from one of the games plays in the background and you tap or flick the stylus in time with the icon that is currently highlighted. The icons are set out in a path, so they obscure the movie, but the location of the icons doesn't factor in to where you tap on the lower screen.
The gameplay might have worked better if the icons were on the touch screen, as it makes little sense to have them set up in a path when you can tap anywhere on the screen and score the same. That would also stop the icons from covering up the cut scene, but then you wouldn't be able to watch it as you would be concentrating on the lower screen. It is possible to watch the video on its own from the gallery when you have finished.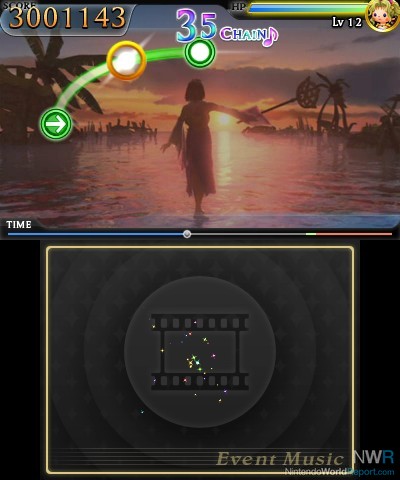 The battle mode was the most game-like of the three. Again, it's a little confusing that it doesn't matter where on the screen you tap even though the icons come in four rows, one for each character. Completing a combo defeats the enemy on the screeen. You choose your four team members before the game selection, with many popular characters from the different games to pick from. You also get items in battle you can equip beforehand, which boost your stats and in turn give you more experience. Your total points allow you to unlock, songs, new characters, and items.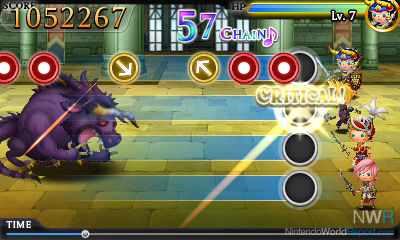 Theatrhythm is not like a traditional rhythm game, but a great part of its appeal comes in revisiting the soundtracks of the past games and seeing and experiencing the remastered versions in a new, interactive way.