Etrian: Light Mode
http://www.nintendoworldreport.com/hands-on-preview/40027/etrian-mystery-dungeon-hands-on-preview
Spin-offs are tricky. Alternate storylines or crossover titles like this one can be amazing or the kiss of death for an upward climb of success. Etrian Mystery Dungeon is another collaborative title of the Mystery Dungeon series, following in the footsteps of others like Pokemon Mystery Dungeon, pulling gameplay mechanics from both series to generate something familiar with a splash of new.
The game starts with a fairly interactive tutorial, throwing you into your first dungeon almost immediately with the goal to reach the bottom floor. Your guide gives you voice-over explanations throughout the level, but the biggest notable change right from the get-go is the difficulty level. Etrian is known for giving you a run for your money, especially at the beginning, and it's not uncommon to spend half of your first dungeon going back and forth to town to heal repeatedly and buy every piece of new gear you can afford to better your chances at survival. But even after the tutorial dungeon, I didn't find myself losing a single character even once until the second true dungeon where an unfortunate ambush that took my under-geared Runemaster. Boss battles can be tricky with positioning, but once you've found a rhythm, even they meet their maker with relative ease.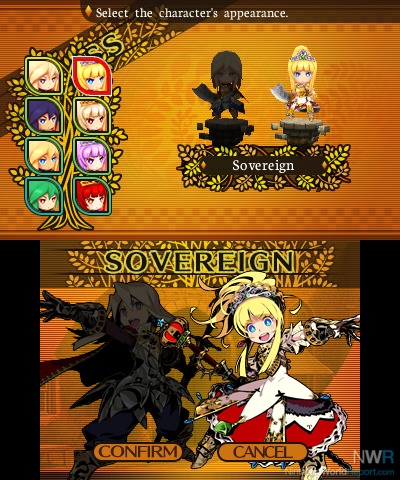 Other than difficulty, the Etrian core of this game is definitely still there, throwing back to the style of the classic play as opposed to the story-centric revisions of the Untold branch. Customized characters are back in your hands, the power to choose name, gender, class from one of seven to start (three are added a little ways down the line), and one of four palette swaps per gender, per class. The vibrant art-style and music still feel like we're walking familiar territory, and on top of that, dungeon crawling is still the name of the game. However, once inside the dungeons, players finally get exposed to more of the Mystery Dungeon alterations, and it works swimmingly.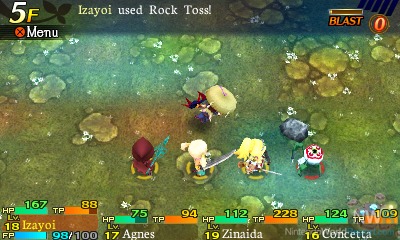 The first person, random encounter battles are gone, replaced by third person player and monster sprites interacting on a map. In prior Etrian titles, we had the old standby RPG system: select an attack for each character as their turn arrives and watch the cycle of attacks to inform your strategy. But the Mystery Dungeon changes to this Etrian add map movement into the mix for a whole new piece to the strategic puzzle. Spreading out to tackle four or five enemies might seem like a good idea, but if a weaker party member is left too far away, you might find yourself with a corpse for a healer and have to end your dungeon foray early to bring them back to life. It's very active and engaging, making players take extra care in their decision-making and extra care to avoid accidental button mashing that might be their undoing against a boss.
While I admittedly miss some of the difficulty I've come to have a love-hate relationship with, Etrian Mystery Dungeon is a worthwhile addition so far. I'm eager to see how the difficulty might change as the game progresses and whether it will catch up to me and beat me with a crowbar in a back alley. Other than that, as far as I've seen, it takes best pieces of the Etrian series and safely leaves out those that are a little less important, for a more active RPG with gameplay that feels less like a prettier, fantasy version of Wolfenstein 3D. It truthfully wouldn't hurt my feelings if I saw some of this spin-off's changes reappear in future Etrian titles.