If you're not a young child, there is not much here for you.
http://www.nintendoworldreport.com/review/30873
In Lola's Fruit Shop, simple Sudoku puzzles are the only thing in stock. If you are an older player looking for a challenging collection of the logic puzzles, you won't find it here. Lola's Fruit Shop Sudoku most likely won't satisfy an audience outside of young children, though even that appeal is questionable.
The game features three difficulty modes. Depending on which you select, you will either complete Sudoku puzzles on a 3x3 grid or a 4x4 grid—both of which are significantly smaller than a standard 9x9 grid. Completing four puzzles in any of the modes allows you to place one fruit item into Lola's shop. After doing so six times, you have beaten the game.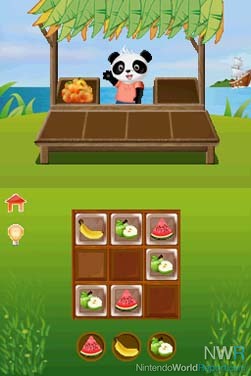 The game is short and simple. The one problem I do see surfacing is how long it can reasonably entertain. I finished the game twice in 15 minutes with great ease, though it's hard to say whether a child will find the repetition as boring as I did.
Lola's Fruit Shop Sudoku is clearly not targeted toward an older audience. The repetitive and simple gameplay is not bad, but just not interesting. It's hard to recommend this game to anyone except young children. If you are looking for a deeper Sudoku game, look elsewhere.