StreetPassing ain't easy, but there might be good days ahead.
http://www.nintendoworldreport.com/editorial/26318
When Nintendo announced StreetPass back at E3 2010, it seemed like a fantastic idea. Unfortunately, there is a harsh reality for the service outside of Japan, specifically North America: our culture makes things such as this nearly worthless. In Japan, the concept of StreetPass is likely mind-blowing, especially as the system gains more traction. Their commuter culture makes for a wonderful way to swap data. But in North America, it has a large potential to fall flat. Outside of kids on school buses, who the hell else is going to use this feature often?
Just look back at the similar modes in Dragon Quest IX, Pokémon Black/White, and Nintendogs. How often did you pass by someone with that game? The only DQIX maps I obtained were at a Best Buy event and New York Comic-Con. Now, 3DS does something right by making StreetPass easy to access. Instead of going into the game and setting up a specific setting, it's always on when you have your system on. Still, I don't see how I'll pass by fellow StreetPass-ers unless I start hounding school playgrounds or large college campuses. Will my StreetPass exchanging be limited to planned encounters with friends and a few conventions a year? Doesn't that kind of defeat the purpose?
Well, from carrying my 3DS throughout most of my daily routine, I've netted about 10 StreetPasses through normal means. I've gotten hits from random people in malls, GameStop/Best Buy demos, and even at local non-gaming-specific events around my area. Considering this system is young, that is not too shabby considering that I don't live in a major metropolitan area (though New Jersey is more densely populated than, I believe, every other state).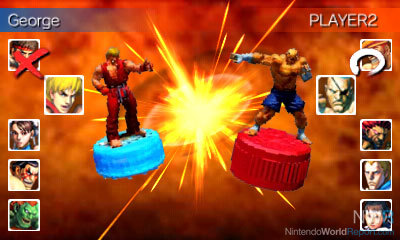 Super Street Fighter IV 3D's StreetPass mode
However, I doubled my StreetPass total on Friday at the debut StreetPass Princeton event, which is fortunately nearby where I live. The event, which lasted for four hours and featured contests and giveaways, had 20 attendees. There are tons of these things sprouting up around the world. Hell, StreetPass New York City is walking for AIDS today. We're not even two months into the system's life and these events are hosting more than 20 people at a time. These aren't gigantic numbers, but they are enough to deem each event a success. If you're bemoaning your lack of StreetPasses, check out StreetPass Network for events near you. If there isn't anything, make your own event. There are likely more people in your boat than you think.
Every month, 3DS system sales will grow, and with that growth, there will be more and more potential StreetPass-ers. Just wait until a game like Pokémon comes out and uses the concept in a more interactive manner. At the launch of the 3DS, I thought StreetPassing would be pointless, more of a sad footnote in the history of the 3DS. My reservations aren't wiped away, but I'm more optimistic than I was before.