1
« on: January 15, 2023, 11:44:56 PM »
This is another filler episode but it is one I feel like I can talk about more quickly. Especially since I don't have to make my own screenshots anymore because I found a way to get them from the Wiki instead. For anyone who hasn't tried to embed images directly from a wiki to the forums, it's a fucking pain in the ass.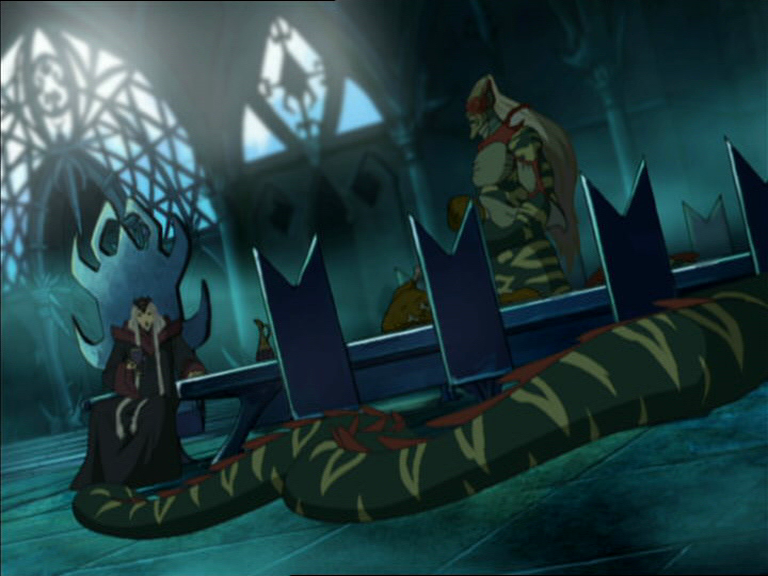 We start in Phobos's throne room where Phobos and Cedric are chatting again. Cedric apparently sent a recon team through the veil to find out where Caleb is hiding on Earth. Phobos, not knowing the difference between past and present tense, tells Cedric to remind them to be careful.
Buddy, Cedric said "sent". That means they're already on Earth. Also, as we'll later learn, the recon team is just a pair of lurdens. They'll be lucky if the government doesn't assume they're aliens, capture them, and send them to Area 51 or something. I don't think I mentioned what lurdens are. These are Lurdens.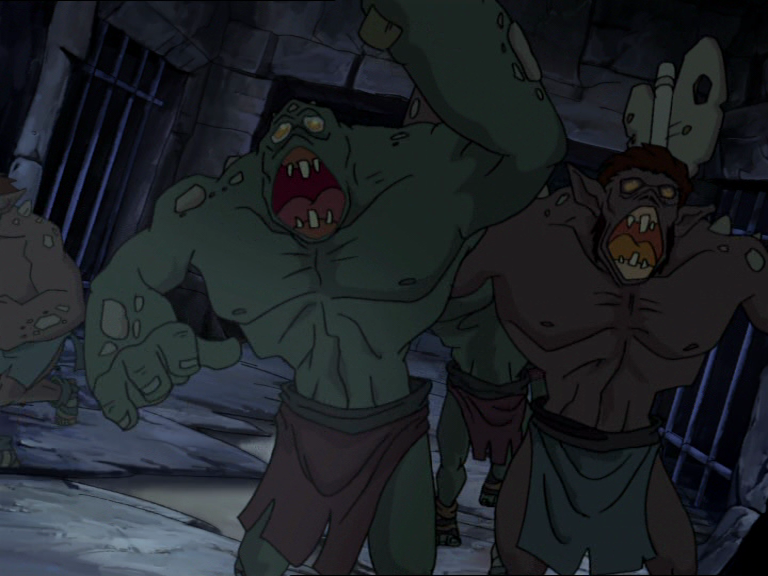 Talk about Incognito,
Phobos orders Cedric to eat because that's apparently his fetish or something and we cut to the next scene. Will is getting yelled at by her mother about her grades. She is forbidden from going to a movie on the weekend. Cut to the next day when she's with her friends and they are all getting hyped up for said movie. The movie stars Vance Micheal Justin who is a celebrity the girls all like. Will says she's totally coming despite her mother's wishes. The group mentions they'll have to wait in a line for 6 hours.
We cut to Caleb who apparently got separated from Blunk while looking for a portal. He is unknowingly being followed by the recon squad that was mentioned earlier. He runs into Cornelia who is fawning over a poster of Vance. We get an amusing scene with them together where Caleb has no idea how to deal with the girl he likes being in love with a poster of a guy dressed like an elf. Cornelia says he's part of "a tribe of incredibly good looking pixies." who fight evil or something. She leaves and we find out what Blunk got up to.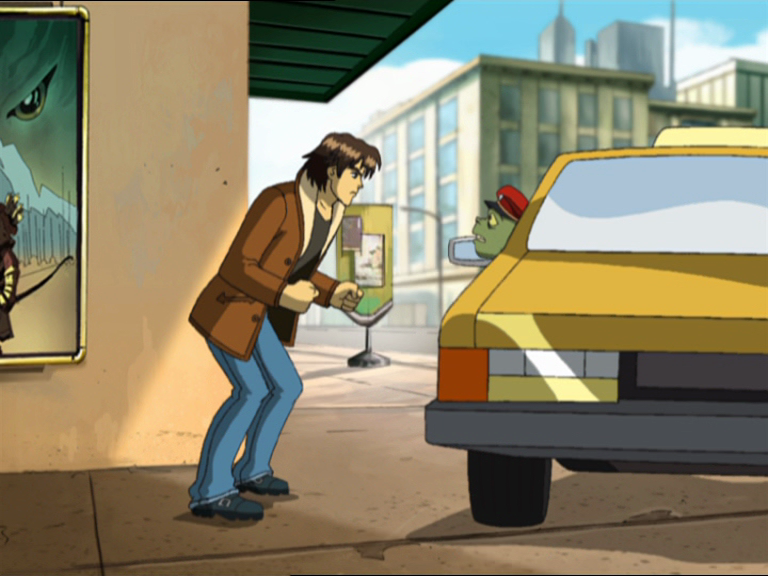 Man, they'll let anyone be an uber driver.
Caleb decides to try and take the taxi back to where Blunk got it only to find that he doesn't know how to drive it. Despite this he is able to inadvertently use it to escape the recon squad. They return to Meridian and Phobos commands Cedric to send The Tracker through the portal. We get a scene where Hay Lin is trying to convince her parents to let her go to the premiere and we cut to Caleb just dumping the taxi in a convenient alleyway. A portal opens in front of them and the Tracker and his dog thing, the Sniffer emerge from the portal.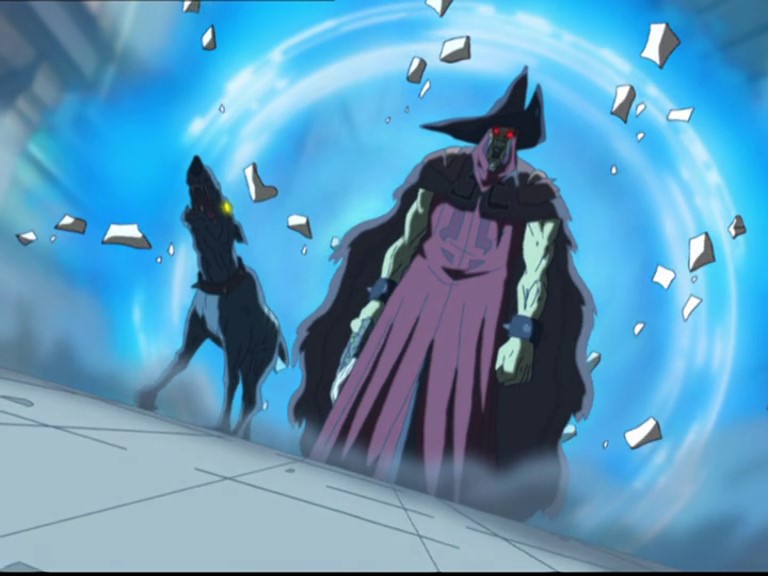 sometimes this show gets some pretty cool shots
Caleb and Blunk manage to elude the Tracker and tries to hide out at Irma's place, where Irma got stuck babysitting her little brother and gleefully takes the opportunity to leave Caleb and Blunk in charge instead.
Hay Lin convinces her parents to let her go to the premiere and the girls set out to wait in line. The Heart of
Plot Convenience
Kandrakar lights up to notify them of the tracker's presence and Will gives the cheesy line "It's evil calling." We cut to the tracker and sniffer picking up the scent of Blunk. We know this because the tracker apparently talks in this episode, which is something I will never speak of again.
Let's talk about the Tracker for a second. He's got a sick ass design as you can see above, he has a little dog called The Sniffer who helps him out, he has this green glowy ball and chain, some bats he can unleash from his cloak and most importantly he doesn't fucking talk in 99% of the episodes he's in. IMO it is a core part of what makes him a memorable part of Phobos's little rogues gallery as opposed to someone like The Captain of the Guard from last episode who will never be seen again iirc or Raythor, who I've made a point to mention as much as possible as a bit of a meme despite the fact that his only accomplishment is getting dropped in a hole.
And also because he comes back next season.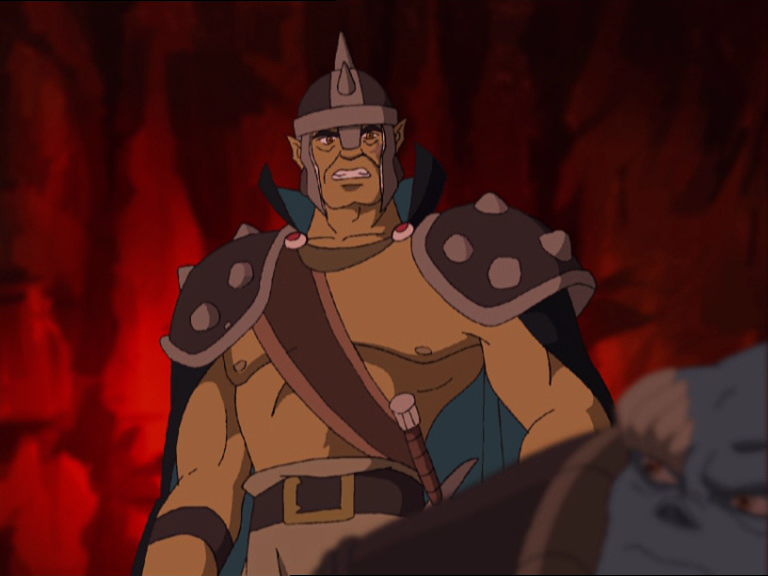 In the arms of an angel...
We've basically reached the action point of the episode and it is a neat setup. Basically one of the girls has to stay behind to hold their spot in line while the rest go to deal with the tracker. Sadly they need to bring Will along to transform so they can't just leave the dead weight behind of they leave cornelia behind instead. However they later have to have someone swap with Cornelia so they can use her powers and it goes on like this for the whole sequence. It's kind of fun. It almost makes you ignore the part where Irma's voice comes out of Will's mouth again at one point.
It also helps that this episode actually has a decent animation budget.
Yan Lin shows up at Irma's place to warn Caleb, having been informed of the situation by Hay Lin. It's a good thing too as the girls are ultimately unable to stop the tracker so Caleb is forced to take darastic measures and use a skateboard to get past the tracker and head back downhill to the theater, which is where Blunk claims the portal is. You know things We're going to ignore the fact that they previously saw the Tracker come out of a different portal because I really like where they put this portal.
You know, I've seen dead pixels on IMAX screens before but this is ridiculous.
With Caleb able to lure the tracker down to the theater we get a big showdown between Caleb the Tracker in the theater itself, which everyone assumes is just some pre-show entertainment, although we got a cool cameo from Uriah and his gang. Caleb is able to get The Tracker through the portal and get back out before the girls seal it. They then un-transform to take their seats in the theater, only for everyone but Hay Lin to sleep through the movie, no doubt tuckered out from all the action scenes this episode had.
It's especially amusing since Irma and Will's mothers have found out that their children have gone against their wishes and attended the premiere. Fortunately for Irma, her relationship with her mother isn't that much of a recurring plotline in this show. Will is not so lucky.
Wrap up / TLDR
This is another fun episode, even if it doesn't really add much to the world of the show outside of introducing Irma's comically bratty little brother and Hay Lin's parents. It is nice to see the Tracker again though even with #speechgate. He gets much more time to shine than he did with the Labyrinth and despite a certain… mishap he makes good use of that time to establish himself more firmly as a memorable part of the show. It feels weird to say it but this is actually his last appearance for the season which IMO is a waste but we'll get plenty more of him in season 2 when I get around to it in 2053.
I could harp on Caleb suddenly knowing how to use a skateboard but it actually kind of makes sense. That skiing episode showed that he is skilled at snowboarding and way back in episode 3 when he was talking to Aldarn about what he saw on Earth one of the first things he mentioned is that he saw a group of teens skateboarding. It's a shame that the writers clearly don't know that there's a difference between snowboarding and skateboarding because I feel like there's a fun episode they could have done with Caleb learning how to skateboard for himself.
Overall, this is the kind of filler that the season needs more of. Just some good old fashioned fun. We have one more fillery episode before things pick up again as I recall but after that the main plot for season 1 will finally start picking up.