Nintendo might have finally figured out how to do Comic Cons after a few years of struggling.
http://www.nintendoworldreport.com/editorial/32113
I've been to four New York Comic Cons as a staff member at Nintendo World Report now. Over that time, I have seen a blossoming of Nintendo's appearance at the event, beginning with nothing and evolving into a spectacle that involved two show floor booths and one off-site event. It took longer than some companies, but Nintendo of America seems to understand how to do these fan-focused conventions now.
Nintendo's main booth this year featured a compact assortment of Wii U and 3DS titles. Several Nintendo Land attractions were on display, along with ZombiU, The Wonderful 101, Rayman Legends, and more. It was always crowded, but if you wanted to try Wii U, the wide variety of systems made it possible.
The 3DS showing wasn't too shabby either. They had some recently released games present, such as Pokémon, Kid Icarus: Uprising, and New Super Mario Bros. 2, but they also had this holiday's big 3DS releases, such as Paper Mario: Sticker Star, Professor Layton and the Miracle Mask, Epic Mickey: Power of Illusion, and Adventure Time. They even had Crashmo (which is so delightful it's not even funny).
Probably the smartest thing they did at that booth was give people stickers in celebration of Paper Mario. I saw several people that were "sticker bombed" by a giant Paper Mario sticker. I also noticed the smaller stickers (which a lucky fan might be able to win a sheet of if they send an e-mail to connectivity (at) nintendoworldreport (dot) com with a viable listener mail question and the sentence "Zach Miller is silly because Paper Mario is awesome.") that were around the convention and the surrounding areas like they were a graffiti tag. Jet Set Radio, eat your heart out.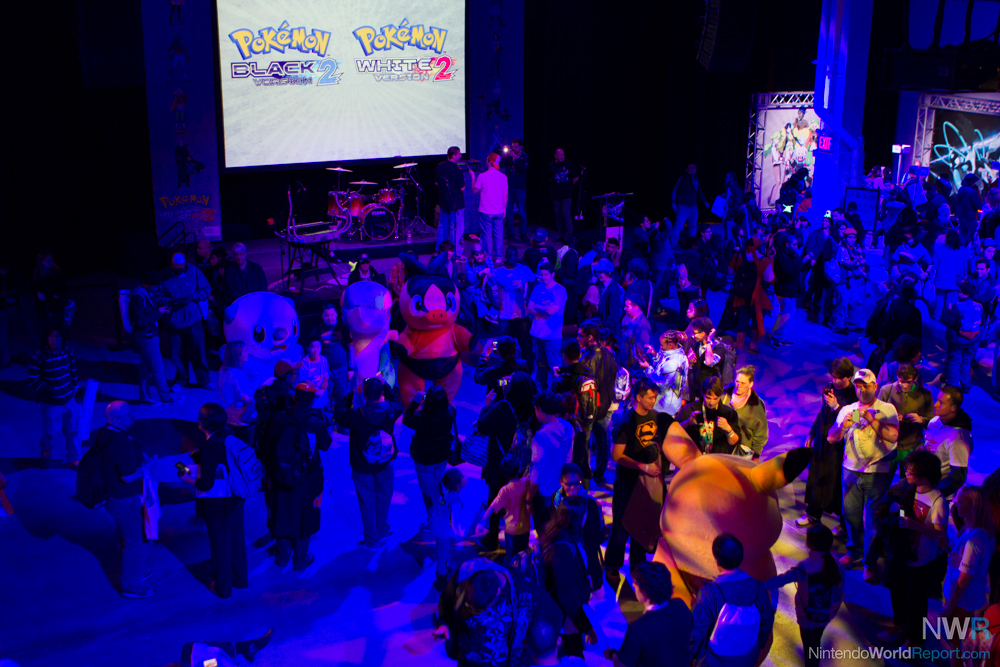 Nintendo also ran Kid Icarus: Uprising multiplayer matches constantly at another booth, which also featured a cadre of New Super Mario Bros. 2 units optimized for Coin Rush competitions. On Saturday, they hosted a free ridiculous Pokémon launch party that featured giveaways, a concert from I Fight Dragons, and appearances by Pikachu, Snivy, Tepig, and Oshawott.
New York Comic Con 2012 was a stark comparison to my first New York Comic Con in 2009. At that event, Nintendo had no presence. The best part of that show was Sega's booth, which featured MadWorld, The Conduit, The House of the Dead: Overkill, and Sonic and the Black Knight. Although the retroactively most memorable moment of that NYCC for me was playing Bit.Trip Beat for the first time. It wasn't easy staying focused on the game when there was a raucous BlazBlue game going on next to me!
I look forward to seeing how Nintendo continues to improve upon their strong showings at these public events. As a lover of Nintendo games going to these conventions, I'm looking forward to PAX East 2013 next. Last year, they had well-run Kid Icarus: Uprising and Mario Kart 7 tournaments. This year could prove to be even better.