http://www.nintendoworldreport.com/blogArt.cfm?artid=16206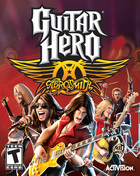 Since when do Wii games cost the same as Xbox 360 & PS3 games? To my knowledge, Guitar Hero: Aerosmith is the first instance of this happening with a multiplatform release. All three game + guitar editions are $100 in the U.S., while the game-only packages are $50. This represents a ten dollar increase for the Wii version over Guitar Hero III, released less than a year earlier. And what are we getting for the extra ten bucks?


Not much, according to the impressions Steven wrote last month. The guitar is exactly the same and still benefits from using the Wii Remote's wireless components, meaning it probably costs less to manufacture than the other guitar models (but those savings are obviously not passed on to us). The gameplay is just "Guitar Hero III+", as there are no new modes or features whatsoever. And the song list, aside from being loaded with awful Aerosmith material, is about 30 songs shorter than what we got in the last game. So, you're paying a higher price for just over half the content. The sad thing is, despite my indifference towards Aerosmith, I should be a potential customer for this game just because I already have a Wii guitar and have been addicted to Guitar Hero multiple times already. I might actually consider this purchase if the price matched the value (~$30/$70).


The only improvement Steven pointed out is that the graphics are better, because the Wii version of Aerosmith was actually designed for the Wii instead of being ported from the PS2. While that's nice, it doesn't affect most of us whatsoever because the graphics clearly don't matter in Guitar Hero; you spend most of the time staring at the note charts. Are better graphics worth a $10 markup? No, we should expect better graphics in every sequel. Anyone who says this game deserves equal pricing with the 360/PS3 versions because of the Wii-specific graphics engine is a lousy apologist. When Activision releases this year's real Guitar Hero sequel, World Tour, and the Wii version matches its brethren on every feature and still includes controller rumble, etc. to offset the inferior graphics, then I won't mind paying the same price as my HD-gaming friends. Until then, I'll walk the other way.