Grandia is coming to Switch, but what's the deal with it and why is its developer notable?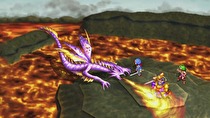 Grandia is coming to Nintendo consoles for the first time this week as Grandia 1 and 2 HD Collection launches on the Nintendo Switch. But just what is up with Grandia? What about their developer Game Arts? And how does this all tie into Super Smash Bros.? Here's a brief history of Game Arts, Grandia, and Nintendo to catch you up to speed.
Game Arts is a Japanese developer that was founded in 1985, with their debut game being Thexder, where you controlled a robot that could also transform into a jet, intriguingly combining side-scrolling action and shoot-'em-up. The series managed to continue, though rarely ever came to America aside from some Sierra-backed PC releases. The developer also launched the shoot-'em-up series Silpheed. Both Thexder and Silpheed appear to be caught up in some sort of Square Enix-publishing ownership since the last releases in both series were back in the late 2000s and Thexder Neo didn't appear to involve Game Arts at all.
But Grandia ain't no shooter. How did we get to Grandia from transforming robots? Part of that connective tissue is found in the Zelda-esque Faria: A World of Mystery and Danger, which launched on Famicom in 1989 and the NES in 1991. I've honestly never heard of Faria before this and most accounts label it as being an interesting though ultimately derivative and somewhat punishing game. Most notably, it seems to fuse elements of both NES Zeldas with the structure of an RPG like Dragon Quest. It's a top-down action RPG that has towns, separate-screen overworld battles, and dungeons.
In the early '90s, Game Arts released Alisia Dragoon on the Genesis. Sega brought it over to the west, which might be a part of the reason why it's one of the many games on the Sega Genesis Mini. Back when it did come out on Genesis though, it wasn't really much of a known entity and its appearance on the Genesis Mini is its only rerelease since 1992. I was both a total Genesis kid in the early '90s and a retro game enthusiast in the 2000s and the Genesis Mini is the first time I earnestly heard about Alisia Dragoon. Worth noting about both this game and Faria: they starred female protagonists in an era where Metroid was the rare exception, so good on Game Arts for trying to change gaming tropes.
After Alisia Dragoon, 1992 was when Game Arts began their transformation into full-blown RPG wunderkind as Lunar: The Silver Star launched on the Sega CD. The goal of Lunar was to break away from what the team at Game Arts viewed was subpar storytelling and animation in RPGs. Thanks to the power of the CD-based device, voiceover work and gorgeous animation was prepared for Lunar that set it far above from its contemporaries. This was an RPG ahead of its time, but it was also an RPG on a fledgling add-on. One of the most notable aspects of the first Lunar game was the painstaking localization by the company Working Designs. The now-defunct company wound up bringing over most of the Lunar games over the next decade with lavish special editions that would make modern boutique physical game publishers blush. The original Lunar game was brought to Sega Saturn in 1996, PlayStation in 1998, and PC in 1999 under the name Lunar: Silver Star Story Complete. More remakes and versions have come out over the years as well, including the Game Boy Advance downgrade Lunar Legend.
Lunar: Eternal Blue was the second game in the series, taking place a millennium after the original. Launching on Sega CD in 1994, this sequel had a much broader scope than the original, but while it sold well in Japan for a Sega CD, it essentially cratered upon release in America in 1995. But once again: it was a Sega CD game in 1995. Eternal Blue came to Saturn in 1998 and PlayStation in 1999.
While the series would live on in remakes, ports, and a few spinoffs, that was basically it for Lunar. The last new release was lamentable Lunar: Dragon Song, a 2005 DS game published by Ubisoft of all companies in America. Game Arts moved on after Eternal Blue launched, instead creating a new RPG series. That game was Grandia and despite universal acclaim after the 1997 Sega Saturn launch in Japan, that version never came west. However, Sony would work with Game Arts to bring Grandia overseas on PlayStation in 1999. So there's another RPG in the west made possible by Final Fantasy VII's outrageous success.
With Grandia now out worldwide, Game Arts went on to polish off the sequel, at first a Dreamcast release in 2000. Ubisoft bringing out a DS Lunar game was no accident as Ubisoft handled the release of Grandia II, which followed up on the first game while also bumping the series to full 3D graphics. Like its predecessor, Grandia II drew much positive acclaim, though the later 2002 PlayStation 2 featured some technical hiccups.
For the most part, Grandia II was the end of Game Arts being unassailable RPG-making gods. You could also say it was the beginning of the end for Game Arts as a known and respected brand. Their next game was a Grandia spinoff called Grandia Xtreme, which came out on the PlayStation 2 with some assistance from Enix. Arguably the most interesting thing about Grandia Xtreme is that Mark Hamill and Lisa Loeb were a part of the English voice cast.
Grandia's full-blown third entry would arrive in 2005 on the PlayStation 2, with an American release following in early 2006 published by Square Enix. That's notable as it was a late-generation release on the platform. While Grandia III was still well regarded, it didn't receive the heaping adoration of the first two entries.
At the same time as Grandia III, Game Arts was working on an MMO called Grandia Online. It was a partnership with GungHo Online Entertainment and started in earnest after Grandia III wrapped. Grandia Online labored through development hell and launched in Japan about five years after it was first announced, only remaining active for about three years before its 2012 shuttering.
Grandia Online did lead to where Game Arts is now, as GungHo wound up purchasing the company in 2005. But before their work with GungHo really commenced, Game Arts was contracted by Masahiro Sakurai and Nintendo to help make Super Smash Bros. Brawl. After essentially a decade of RPGs, Game Arts pivoted to a party fighting game. Game Arts did carry with it a wealth of game development experience as well as a number of passionate Smash Bros. fans. They would serve as one of the earliest projects that Sakurai worked on in his new capacity with his tiny development company Sora.
Following their work on Brawl, Game Arts went back to their old Western published friends at Ubisoft to take what they learned with Nintendo to work on Teenage Mutant Ninja Turtles: Smash Up, a relatively by-the-books Smash ripoff starring the turtles and, since it was Ubisoft in 2009, some Rabbids.
At the tail end of 2009, Game Arts launched a WiiWare game called The Magic Obelisk, which was heralded as the developer's first original game in years. We reviewed it back in the day, but if you're curious about the budget-priced and unique puzzle game, well, you're out of luck. Without notice, The Magic Obelisk was delisted in 2011.
That year was also met with tragedy for Game Arts as the company's founder Takeshi Miyaji passed away at the age of 45. He had left the company to form G-Mode in 2000, but Miyaji was the primary developer behind the first two Grandia games. His legacy lives on in this HD collection. His brother, Yoichi Miyaji, still runs Game Arts to this day.
The late Miyaji also was a key force behind the Gungriffon series, which is the other core Game Arts series that hasn't been brought up here yet. Four games make up the series, which began on the Saturn in 1996 and last showed up on the Xbox in 2004. Seemingly owing some inspiration to Thexder, Gungriffon is a mech-based shooter not too far off from something like Armored Core.
While The Magic Obelisk magically faded away, Game Arts' next title, the initially Vita-exclusive puzzle platformer Dokuro has hung around since its 2012 debut. The uniquely stylized download game even showed up on Switch in 2018, so if you're aching to know what modern Game Arts is up to, there you go.
The last original RPG that Game Arts released was in 2012 as they brought GungHo's MMO Ragnarok Online to Vita with Ragnarok Odyssey, which took a lot of the elements of the MMO and added some Monster Hunter-like tweaks to it. In 2014, an updated version, subtitled Ace came to both Vita and PlayStation 3. Even with essentially taking off a generation, somehow Game Arts still released a major RPG for a system around its successor's launch, following in the tradition of Grandia on PS1 and Grandia III on PS2.
Game Arts was last specifically credited on the remasters of Grandia from the past few years, specifically the 2015 PC version of Grandia II. Other than that, they appear to be a part of the GungHo Online Entertainment machine, as the company has just shy of two dozen active online mobile games that Game Arts is likely contributing to in some capacity. While the Game Arts that made Lunar and Grandia is probably not ever coming back, definitively with the passing of Takeshi Miyaji, it's nonetheless a shame that a cutting-edge and brilliant RPG maker from the '90s is so removed from the zeitgeist and faded away from modern gaming. Hopefully the Switch release of Grandia and Grandia II will help rekindle fond memories of the masterful stretch of RPGs the studio delivered for over a decade.