by Donald Theriault - 6:07 am PDT
Discuss in talkback! Source: Nintendo
The President has been kidnapped by ninjas. At this point, they can keep him.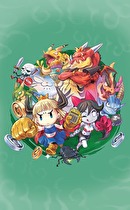 The start of the second quarter - in the case of a Sunday, April 1 release, literally - sees a fair number of titles popping into the Switch. Penny-Punching Princess punches its way into North American shops this week, while The Adventure Pals and Infernium provide interesting takes on the adventure game genre.
Read more...