by Tom Malina - 4:36 A.M.
Source: http://www.siliconera.com/2013/05/20/gunman-clive-developer-working-on-zelda-inspired-game-for-nintendo-3ds/ (Description) Siliconera
Total Comments: 0
This new game looks to the earliest entries in the Zelda series for inspiration.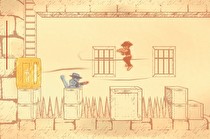 Hörberg Productions, the one-man developer behind 3DS eShop platformer Gunman Clive, has begun work on another game for Nintendo's handheld, said to be heavily influenced by early titles in the Legend of Zelda franchise.
Although this untitled project is only in the preliminary development stages at the moment, designer Bertil Hörberg stated that it will played from a top-down perspective and feature 3D visuals, with an art style distinct from the Zelda titles that have inspired the game design.
Read more...