by Danny Bivens - 7:03 P.M.
Source: http://archives.sega.jp/3d/juouki/index.html Sega.jp
Total Comments: 1
The fourth title in Sega's "Reprint Project" is revealed.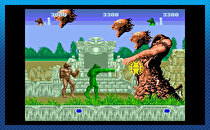 3D Jūōki, or 3D Altered Beast, is coming to the Nintendo 3DS next week on May 29 for 600 yen. Similar to previous titles released in the Sega 3D Fukkoku (Reprint) Project, Altered Beast offers an array of options including customizable controls, Japanese and English versions, the ability to save anywhere, and also a "classic" view mode that resembles a tube television with slight curvature. Simultaneous multiplayer through local play can also be utilized if gamers have two copies of the game. 3D Altered Beast is based on the Mega Drive (Genesis) version of the game.
Read more...