by Justin Baker - 9:18 A.M.
Total Comments: 0
Pink Puffballs on Parade.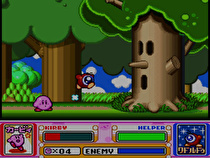 If you just can't get enough Kirby then Nintendo has your back this week. We're treated to not one, but three of the best Kirby games under the sun, and if you buy two of them you get the last one for free. I'm going to be buried under pink fluff for the remainder of the week! If that's not enough for you there's also gorillas in neckties, men in bodysuits, and dancing demons.
3DS eShop Sales
The Denpa Men: They Came By Wave - $7.99
Read more...