by Nicholas Bray - 12:24 A.M.
Source: https://itunes.apple.com/us/album/pokemon-firered-pokemon-leafgreen/id771135133
Total Comments: 2
Relive the wonders of some classic Pokémon music.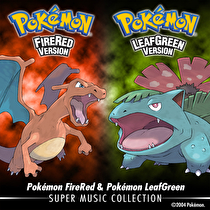 Following on the heels of the soundtrack release for Pokémon X and Pokémon Y on iTunes, the Pokémon Company International has now released the soundtrack for Pokémon FireRed & LeafGreen, which features 90 songs.
Fans of Pokémon music can also look forward to the following releases in 2014:
- Pokémon HeartGold and Pokémon SoulSilver- Pokémon Ruby and Pokémon Sapphire- Pokémon Diamond and Pokémon Pearl- Pokémon Black and Pokémon White- Pokémon Black 2 and Pokémon White 2
Read more...