by Andy Goergen - 10:56 P.M.
Total Comments: 8
It's a secret to everybody... or a marketing snafu.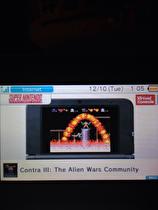 The recent Miiverse update has revealed an image which may signify upcoming SNES releases on the 3DS Virtual Console service. When the Miiverse community page for the Wii U Virtual Console release of Contra III: The Alien Wars is loaded on the 3DS Miiverse application, the game is shown running on a 3DS XL in the header.
No Super Nintendo games, including Contra III, are currently available on 3DS. In addition, no other Super Nintendo Wii U Virtual Console communities showed a 3DS in the header image, rather displaying the Wii U GamePad as one would expect.
Read more...