by Justin Baker - 5:56 P.M.
Source: http://www.siliconera.com/2013/05/22/tecmo-koei-executive-vice-president-hints-at-a-pokemon-conquest-sequel/ (Siliconera) http://www.inside-games.jp/article/2013/05/22/66702.html (Inside-Games)
Total Comments: 0
We could be seeing more Pokémon teaming up with warlords in the future.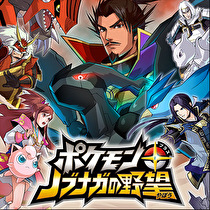 Pokémon Conquest could get a sequel provided that "there's enough demand and enthusiasm from the fans", says The Pokémon Company CEO Tsunekazu Ishihara in an interview with Inside-Games. According to the interview with the executive, he wouldn't "rule out the possibility of seeing a sequel."Pokémon Conquest is a strategy mashup of the Pokémon and Nobunaga's Ambition franchises released on DS in 2012.