by Donald Theriault - 8:00 am EDT
Discuss in talkback! Source: Nintendo
A week of sword boys, kangaroo, and a longer June.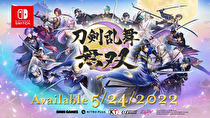 Things we missed last week: Data East's Trio The Punch in the Archives.
Last week had the lowest total all year that wasn't explainable by a holiday, and this week's starting out as quiet. If you'd like to get a Warriors fix but want a game with more bishonen by volume than Three Hopes, Koei Tecmo's... Read more...