by Justin Berube - 6:14 am PST
Total comments: 5
Hide and seek for Mario and Luigi.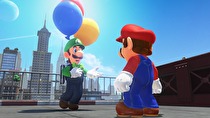 Super Mario Odyssey is receiving a new competitive mode called Luigi's Balloon World. After completing the main story, players will be able to speak to Luigi in stages to start the competitive modes. Hide It mode will give the player 30 seconds to hide a balloon within a stage. Find It is the opposite... Read more...