by Donald Theriault - 8:50 pm PDT
Total comments: 2 Source: Capcom
When it comes to blue robots firing Hadoukens, there's no power greater than X.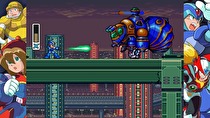 The Mega Man revival on Switch will continue past the original Legacy Collections in May.
After announcing that all of the Mega Man X games would come to Switch in 2018 at the Mega Man 11 announcement stream last year, Capcom confirmed today that they would come in the form of Mega Man X Legacy... Read more...