by Donald Theriault - 6:10 am PST
Total comments: 1 Source: Nintendo
On a full house of a day, it's a fuller house of games.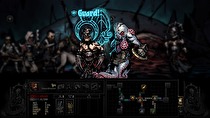 In the North American shops this week, Nintendo really wants you to think that the big game is the 3DS retail release du jour in Kirby: Battle Royale. But we all know the truth: The ability to absorb a foe in a single inhale is insignificant next to the power of Cthulhu. Hencem the big winner this week is Darkest Dungeon, launching on Switch with hopefully readable text in handheld mode.
Read more...