by Donald Theriault - 8:30 am PDT
Total comments: 1 Source: Nintendo Force
Did the Plato estate sign off on this?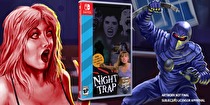 One of the most infamous games in history is coming to a Nintendo platform after more than a quarter century.
Night Trap, the Sega CD full motion video game, has been tabbed for a Switch release "soon". A physical version has been announced for release by Limited Run Games according to the latest issue of Nintendo Force magazine.
Read more...