by Donald Theriault - 8:41 pm PST
Discuss in talkback! Source: Nintendo
Related: Several staffers saw the ending of Dr. Mario today.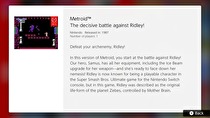 All territories received two SP titles with this month's Nintendo Switch Online NES update.
Dr. Mario and Metroid both received the special treatment this month. In Dr. Mario, the save picks up at a nearly-finished Stage 20 on the "Hi" speed, allowing for the viewing of a rare cutscene.
Metroid's... Read more...