The ex-CING developed mystery comes west from Aksys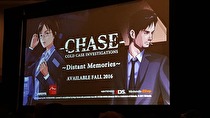 Aksys has announced their latest eShop title at this year's Anime Expo, and it's a familiar name for DS adventure fans.
During a swath of announcements at their AX panel, the company announced they had picked up the Arc System Works-published -Chase- Mikaiketsu Jiken Sousaka ~Tooi Kioku~ announced in March for localization. -CHASE- Cold Case Investigations ~Distant Memories~ will release digitally this fall.
The police adventure was developed by ex-CING staff who worked on Hotel Dusk: Room 215, Trace Memory and Little King's Story.
Photo courtesy @VaguelyHorrible