Builders Week challenges successful!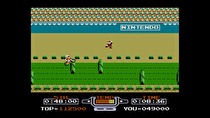 Nintendo of America will be making a rare Monday release on Virtual Console this week with Vs Excitebike.
Originally teased last Monday, the release was based on the completion of "Builders Week" challenges which included tipping in Mario vs Donkey Kong Tipping Stars, making levels in Stretchmo and completing levels in Pushmo World.
The 1988 Famicom Disk System title is known for its remixed music, 2 player modes and ability to save created courses.