The pop-up Samurai adventure is coming soon.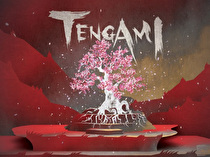 Tengami, a point and click adventure from developer Nyamyam, will be heading to the Wii U eShop in June.
The game, featuring a colorful pop-up narrative, has you controlling a samurai. Using the Wii U gamepad's touch screen, you'll help guide this samurai as he navigates various puzzles.
David Wise, best known for composing the Donkey Kong Country series soundtracks, including the newly released Donkey Kong Country: Tropical Freeze, will be the game's composer.