Mario's space adventure becomes the ninth Wii game to pass five million.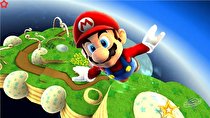 Super Mario Galaxy became the ninth Wii game to sell more than five million units, according to the NPD Group.
Super Mario Galaxy now joins other Wii titles that have sold more than five million copies such as Wii Play, Mario Kart Wii, and New Super Mario Bros. Wii. It is expected that Just Dance 3 will soon become the 10th Wii game to reach this milestone, currently at a total of 4.61 million units sold.
"Titles like Super Mario Galaxy help explain why Wii continues to resonate with consumers. The fact that one of the best-reviewed games of all time is available for a suggested retail price of $19.99 speaks to Nintendo's combination of quality, family fun and value that is unmatched in our industry." said Nintendo of America's executive vice president of Sales & Marketing, Scott Moffitt.