Nintendo's Bill Trinen talks to us about Photo Dojo, its localization, and his zealotry for the game.
Following the final match in which I defeated Bill Trinen, the mighty Nintendo Ninja, I had the opportunity to talk to him about Photo Dojo and what went into bringing the game that was called Photo Fighter X in Japan to North America.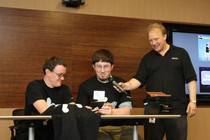 Nintendo's Bill Trinen vs. NWR's Neal Ronaghan in the Photo Dojo Finals with Nintendo's David Young as the MC
Nintendo World Report (NWR): How involved were you with bringing Photo Dojo to North America?
Bill Trinen (BT): I was in one of the meetings when they first showed it to us and the moment they showed it was apparent on all of the faces of everybody from Nintendo of America in the room that we were all immediately in love with the idea of this game. There wasn't a whole lot of work to bring it to America; it was a foregone conclusion.
NWR: What went into localizing the game?
BT: The DSiWare titles from a localization standpoint are obviously smaller and more compact, but there is still a fair amount of work that goes into it. One of the most important things is naming the game, and we think the name just speaks for itself. It's Photo Dojo. It pretty much tells you what the game is instantaneously. Just take a picture and fight.
NWR: With the DSi Camera, do you think there will be any more Photo Dojo-like games to hit the system?
BT: That's one of the things that DSi has going for it. It does have the built-in camera, not just one but two. In Japan, there are some games that use the camera in DSiWare titles, and we're starting to see retail games that are coming out, taking advantage of the camera. I think developers are getting familiar with the hardware and gradually we'll start to see more and more games that take advantage of the different features.
NWR: How did you become the "Nintendo Ninja" for the Photo Dojo Media Tournament?
BT: I was very passionate about the game internally. I've basically been running around telling everybody how fantastic it is, and that's how I ended up here in this tournament, even though I didn't fare very well. I'm a big fan of it, but I didn't say I was good at it.
NWR: What was the impetus for having Photo Dojo be free, and then charging for it after a month?
BT: One thing that we do like to do is try to find ways to reward our most loyal fans. Obviously, anybody who owns a Nintendo DSi and is regularly visiting the shop or paying attention to the content that is coming out, they're going to hear about it, and they're going to get it in the first month. We also do want to get as many people as we can to connect their system to the internet and the shop, and so this is kind of one way to do that.
It's also a game that we want people to pick up and play, create their fighters, share their fighters with their friends, and show off what Nintendo DSi can do and how much fun it is to play the game. Hopefully, as people download the game, play it, and show off what they created, we'll see more and more people getting interested in it, and picking it up down the road.
Thanks to Bill Trinen, Nintendo of America, and Golin Harris for the interview!