by Neal Ronaghan - 9:06 A.M.
Total Comments: 7
The only list you'll read this month that has Bill Laimbeer's Combat Basketball on it!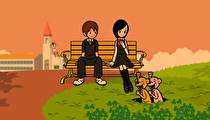 I didn't think that, in the shortest month of the year, I would question my sanity for the amount of games I played. If you're mathematically inclined, I played more than one game a day, even more if you count the individual Super Scope and Kinect games I tried out.
Though, if you break down the hours of playtime, it's probably not that ridiculous, as a majority of these games were of the "Oh man, I love VVVVVV. I feel like playing 20 minutes of it." I have no such defense for the 10 hours I likely put into NFL Blitz this month. Or the countless hours spent with review games that I didn't like that much. Regardless, any month when you can put down Bill Laimbeer's Combat Basketball and not want to slit your wrists is a good one, right?
Read more...