by Aaron Kaluszka - 2:31 P.M.
Total Comments: 5
What role do the goddesses play?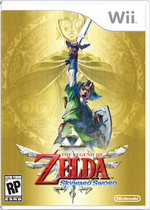 The Legend of Zelda: Skyward Sword's box art, which was revealed today, features something resembling a magic circle, behind Link and Phi. This circle contains three emblems, which may be familiar to Zelda players. These emblems appeared on the Goddess Pearls in The Wind Waker, as well as in Oracle of Ages where they represented tunes played on the Harp of Ages.
The intricate design also contains Hylian script. Translating to English results in the following, clockwise from the top left:
Read more...