by Zachary Miller - 6:51 P.M.
Total Comments: 3
Yes, it's real, and the version I got is beyond awesome.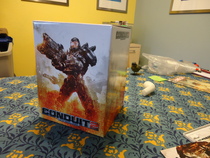 I got a really big package in the mail today. It was filled with foam peanuts and a slightly smaller box containing...Conduit 2! Yes, that once-mythical, much anticipated sequel to the overrated, but still halfway decent, The Conduit from a few years ago. Remember that game? Lindemann loved it. Anyway, that's a big box for one game. There must be more in there! Let's rip it open!
Well, I kind of expected the game. The fact that I got the special edition (SCREW YOU, GAMESTOP!) is really nice. It includes an artbook and a bunch of unlockable in-game bonuses like gold armor and some special All-Seeing Eye.
Read more...