by Andrew Brown - 8:18 A.M.
Total Comments: 15
Santa Claus has been keeping tabs on the kids' wishlists this year!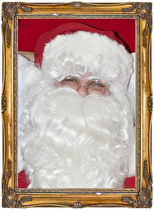 These holidays, I happen to have had the unique opportunity to chat with Santa Claus and get his personal opinion on what's in and popular this year. Don't ask how, it's a secret to everybody.
Jolly old Saint Nick has been more than happy to disclose some of the intricate details about the gift requests that have been made to him from all the kids lucky enough to be on his Nice List. Now, since I'm on the illustrious NWR staff and all, I thought it'd be a good idea to take note of the frequency in which Nintendo stuff is on the kiddies' wishlists. We already knew the outcome, due to the overwhelming awesomeness that is Nintendo, but here it is, straight from the kids' mouths.
Read more...