by James Jones - 3:07 P.M.
Total Comments: 9
Read as I try to convert Layton's theme into an unplayable mess of notes in Jam with the Band.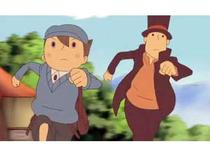 I performed music for many years, and despite that I was never any good at music theory. I primarily read the Alto clef, an oddity used exclusively by the viola that was created by music theorists to make violists feel even further isolated than they already do, and never quite developed the ear for pitch.
As a composer, I have about six movements to my name, including two arrangements. None of them are any good. Even so, I've always wanted to create music. I've played with lots of little toys, filled out lots of composition books, and even interviewed one of the men who worked on the project that created the MIDI format. With the exception of a research paper on the history of electronic music, I don't have much to hang my hat on.
Read more...