by Mike Gamin - 8:38 A.M.
Total Comments: 29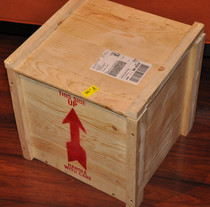 The FedEx man carried this beast in. It came complete with "Handle With Care" warnings painted on the side. A hammer was even needed to open the thing. A crowd gathered around as I was opening it. We were all wondering what game could possibly be involved in this latest PR ploy.
What's that looking up at me? It's one of 12 stuffed Squeeballs. If you want us to know what the heck a Squeeball is, I guess that's one way of doing it. They went to great lengths to get us to talk about the game here at NWR, and I guess, as of the posting of this blog entry, they got their wish.
Read more...