by Jonathan Metts - 3:23 P.M.
Total Comments: 133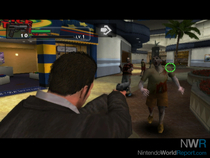 A few years ago, Chris Rock had a great comedy routine about guys who always want special attention for things they're supposed to do anyway. To paraphrase:
'I ain't never been to jail!"
"What, you want a cookie?"
I think this scenario perfectly captures the current state of Wii graphics. We all know that GameCube was a powerful system for its time, and we know that Wii is significantly more powerful than that. Yet the vast majority of Wii games, including Nintendo's own projects and those of talented third-party studios, barely meet the standards of mid-level GameCube visuals. I'm not talking about budget-priced shovelware. Marquee titles like Battalion Wars, Rock Band, Animal Crossing, de Blob, Boom Blox, and Mario Kart could all be mistaken for last-generation titles, based on their graphics.
Read more...