by Minoru Yamaizumi - 1:16 P.M.
Total Comments: 0
With Yakuza 1 & 2 HD hitting Wii U in Japan, could the rest of the franchise follow?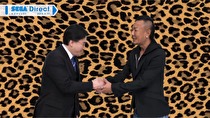 The beginning of the Japanese Nintendo Direct on May 17 was quite a surprise. It began with the good old "Seeeeegaaaaaaa" voice as it started out unexpectedly labeled as "Sega Direct," with the special guest Toshihiro Nagoshi, a Sega CCO. Nagoshi may be best known as the producer of the Super Monkey Ball series, but in Japan he has been the icon and the producer of the Yakuza franchise (Note that real Yakuza executives don't dress themselves like him; rather they always wear dark suits like Iwata, or a better example may be Yamauchi, nicknamed "Kumicho" (Yakuza Boss) by Japanese gamers). On top of a few other Sega titles, what occupied the majority of the "Sega Direct" segment was Yakuza 1 & 2 HD for Wii U. They showed a new trailer and did a short "Iwata Asks" style interview for several minutes.
Read more...